Finding Unique Medieval Goblets & Tankards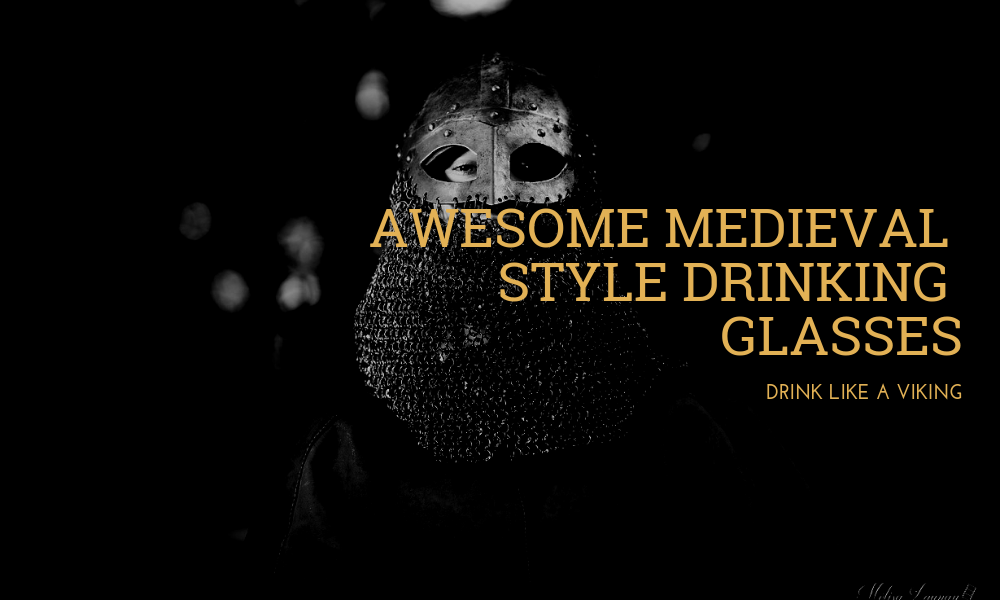 Our Favorites
7 Awesome Medieval Style Tankards
People have been drinking beer almost quite literally ever since humans have been walking the earth. Scientists and historians alike believe that the first beer was created around 10,000 BC somewhere near Mesopotamia, and people still drink it today. That means it is a lasting drink with a good, long history. A drink that has endured the last 12,000 years is a strong drink, and a strong drink should be drunk from a strong glass. A medieval tankard is about the strongest glass there is. It is a type of drinkware, usually made of horn, steel, pewter, sturdy wood, or silver, that is large and almost impossible to break. It is somewhat cylindrical but becomes smaller towards the top, and it has one single, curved handle on the side. This article will showcase seven of the coolest, most bad ass medieval tankards for sale online today.
1. MyFancyCraft Wooden Beer Mug
This tankard is incredibly cool. It is handmade of a beautiful, dark brown oak and can hold up to twenty ounces of your favorite ale. The inside of the tankard is made of stainless steel, so it will keep your drink cool and fresh. The tankard is 100% safe for use and can be washed like most dishes, which means it is not just a cool prop to take to the next Renn Faire; it can actually be used for regular, every day use.
---
2. Original Viking Drinking Horn
This tankard is a replica of an authentic Viking drinking horn, and it is good enough to clink tankards with Odin in Valhalla! This tankard is made from one solid piece of actual horn, making every tankard from this line unique and a gorgeous piece of functional art. These drinking horns are handmade, finished off with a sleek, polished design, and sent to you in a burlap sack. This horn holds twenty ounces of your favorite drink and is 100% safe to use and wash
---
3. AleHorn – The Original Handcrafted Authentic Viking Drinking Horn
AleHorn has been making custom replicas of Viking-era and medieval style drinking horns for the past several years. They are known for handcrafting each unique item, and they even offer custom engraving. This particular drinking horn, cut from one solid piece of horn, holds twenty ounces of mead, ale, beer, or anything else you want to put into it, and is about six inches tall. This drinking horn is unique because it is created with a one-piece formed handle. It is safe to use and to clean, and it is especially awesome because it comes with a Lifetime Guarantee that the company is proud to stand behind.
---
4. Small Horn Shot Glass
Like the last couple of tankards, this one is an authentic replica of medieval style drinking horns and is cut from a single ox horn. It is unique; no two horns will ever be the same. Unlike the last couple of drinking horns, however, this one is not a jumbo sized drinking horn. This one holds only about six and a half ounces of liquid, which makes it the perfect size for shots of the harder liquors. The horn is 100% safe to use and wash, and the interior is completely waterproof.
---
5. Medieval German Style Mini Beer Stein
This medieval tankard is amazingly crafted from beautiful, sturdy oak. It is the perfect option for your vegan friends who do not want any products that were made through hurting animals. This stein holds up to fourteen ounces of whatever liquid you decide to put into it, and the details on the golden shield are simply stunning. It is nearly unbreakable and looks like an authentic, antique Bavarian beer stein. It is a great prop for the next Oktoberfest, but it is also safe to use for practical, every day use, as well.
---
6. Marycrafts Buffalo Viking Drinking Horn
This drinking horn from Marycrafts is another top-of-the-line replica of Viking style drinking horns. It is made of genuine buffalo horn and treated in a food and drink safe waterproof resin. The handle is made of one solid piece of horn, as well, and it makes for a very interesting look. This horn is also quite affordable for the average person, which makes it a great choice for practically anyone.
---
7. Valhalla Vineyards Viking Horn
Valhalla Vineyards is known for their premium, authentic Viking drinkware. This particular drinking horn holds sixteen ounces of your favorite drink and is guaranteed to be 100% unique. The company hand selects each horn and inspects them for the highest level of quality. The horns come in a wide variety of shapes, sizes and shades of color dependent upon the original horn that is chosen. The drinking horns are then shaped and treated. They make beautiful pieces to show in your home, but they are also 100% usable. They are easy to keep clean, and they come shipped in their own Valhalla Vineyards bag. The company is also so proud of their product that they offer a 100% money back guarantee. If you are not totally pleased with your horn, you can ship it back for a full refund. You can't beat that!
---
So, whether you are looking to knock back a shot, a pint, or twenty delicious ounces of mead, ale, beer, or anything else, why not do it in style? With shows likes Game of Thrones, Vikings, and Black Sails becoming more and more popular all of the time, buying an authentic medieval tankard to drink from at your viewing party will make you the life of the party. Pick up one of these awesome tankards and raise your glass to the King in the North, Ragnar Lothbrok, or Captain Flint. Skoll!
As an Amazon Associate we earn from qualifying purchases made above.