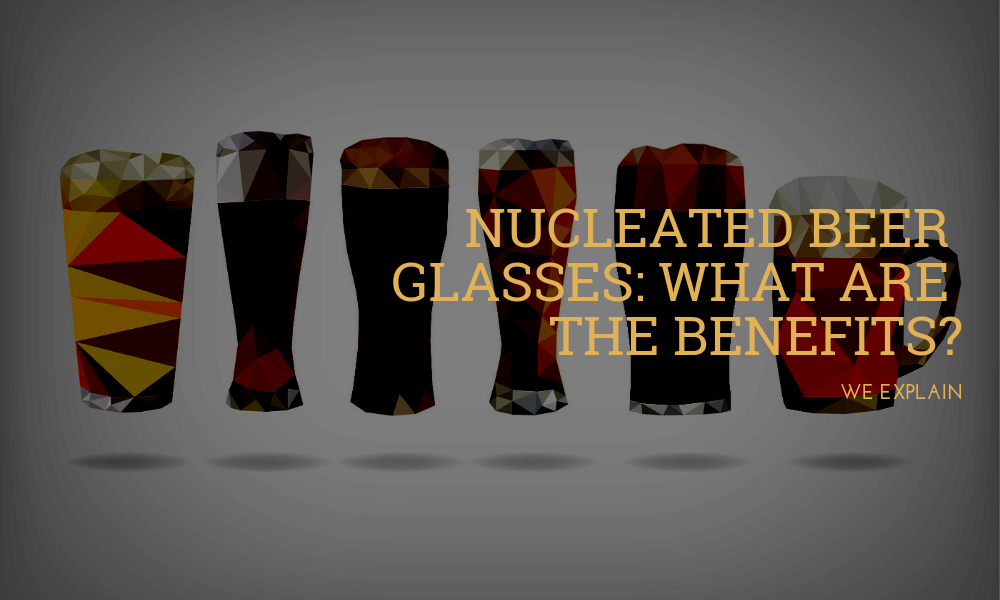 There are a lot of elements that go into the perfect glass of beer, but one of the most important is the kind of glass it is served in. The right glass can make or break your beer drinking experience just as the right seasoning on a steak can make or break the flavor of the meat.
Having a consistent and lasting layer of foam, or head, on your beer enhances the drinking experience because head contributes to the flavor and aroma of the beer.
One of the best options for getting a better beer drinking experience is to use a special kind of pint glass called a nucleated beer glass.
A nucleated pint glass is very similar to a standard pint, except there are small laser etched or sandblasted designs on the bottom of the glass. This allows CO2 to come out of suspension in a slow but steady stream, improving head on the beer.
Drinking from a Nucleated pint glass will contribute to a much larger head on your beer, and really bring out the flavor and aroma in a way that a standard pint simply does not.
Especially beneficial for IPA drinkers, just about any style of beer can benefit from being drunk from a nucleated pint. When shopping for nucleated pint glasses, you should take into consideration the styles of beer you drink most often, as well as what you like looks wise.
If you like to drink IPAs or other styles heavily dependent on hops,
this style of glass might be just right for you. The larger opening at the top of the glass allows the head to expand over a larger surface area. Because of the larger area for head, the hop aroma gets to your nose as you bring the glass to your mouth and helps impact the flavor of the beer. Most IPA drinkers agree that having a style of glass with a larger opening enhances the experience. This option also has a very modern design, so your beer will look good while you drink it.
Next are the
Because Pilsner is a German beer and uses Old-World or Noble hops with very distinct and pleasant aromas, Pilsner is another style that benefits greatly from nucleation on the bottom of the glass. Similar in shape but more elongated than the IPA glass, it also has a larger opening at the top of the glass. Perfect for Lighter colored, clear beers like German and American style lagers, you will definitely notice an improvement in the flavor of your beer drinking from one of these.
Finally, the ultimate glassware set for the serious beer drinker.
A 6 pack of classically elegant pint glasses, perfect for any style of beer, each with a unique hop printed on the glass. Great for your next party or even just for your home bar, multiple people can drink at the same time and not worry about which glass is theirs. Hop varieties on the glasses are Admiral, Cascade, Galaxy, Mosaic, Simcoe & Warrior; each one a popular and respected variety used in all styles of beer. Each glass features a hop leaf laser etching on the bottom to provide that perfect head with every beer.
You have a lot of choices when it comes to the kind of glass you drink a beer out of. Why settle for an inferior experience when you can get a perfect beer every time? A nucleated beer glass offer the great looks and superior function that today's beer drinkers look for in a drinking experience. The etchings on the bottom of the glass provide a head that is at least 1.5 times larger and longer lasting than a standard pint, improving flavor and aroma of the beer.
Take a look at the different styles of glassware and decide which options might work best for you based on the beer you like to drink. Remember that the serious beer aficionado often needs to have several styles of glassware to get the full experience from any style of beer, as well as impress friends and family when hosting.